Drivetrain
Home of Engine and Transmission Mounts.
WEVO Transmission Side Covers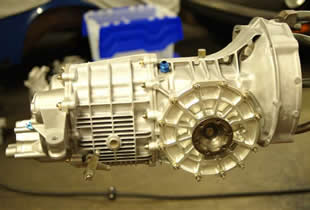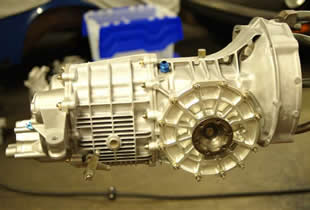 WEVO Transmission Side Covers
All the WEVO differential side cover products are designed to combat the increased loads that are experienced in the Porsche transaxles as a result of the high grip levels avaialble from modern tyres - even on original size rims.

The "seperation force" of the bevel gear configuration in the differential is most directly effected by grip levels. The differential side cover is in direct control of this force. By making the cover stiffer, the CWP (Crown Wheel and Pinion) gears are arragned in their design configuration over a wider rang e of loads, alleviating heat from friction and wear from misalignment.

Add to this the fatigue that 40 year old high components have endured already and there is a compelling argument to install a new side cover during any transmission rebuild for a sports purpose Porsche 911, 1965 - 1986.

For a long time Windrush have recommended the use of the 915.301.311.3R style 915 side cover. That last version of the OE side cover had the highest stiffness and offered the highest performance solution for managing the separation load of the Crownwheel and Pinion gear assembly. The earlier aluminum and magnesium side covers - while lighter - is less stiff and prone to cracking and failure under modern conditions. Once quite inexpensive, the 915.301.311.3R have become difficult to obtain as a new replacement part.

The WEVO XT-100 is a billet side cover with the stiffness of the 915.301.311.3R AND the additional benefit of a larger differential carrier bearing on the cover side - copying the bearing arrangement of the sturdy 930 transmission. The cover does not includes the bearing that is a standard Porsche part 999.059.064.00. Bearing can be purchased from WEVO separately.